Speakers
MGGNO Speakers Bureau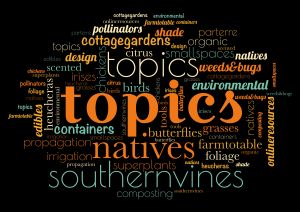 Programs Offered 2022-2023
The Master Gardeners of Greater New Orleans Speakers Bureau is a free community outreach service providing educational programs in Louisiana horticulture to groups and organizations. Speakers are Master Gardener volunteers who have completed the Louisiana Master Gardener training provided by the LSU Cooperative Extension Service.  Programs are selected and prepared by Master Gardeners that reflect both their expertise and interests.
Master Gardeners will speak to groups in the Greater New Orleans area. Garden clubs, schools, businesses, churches, neighborhood and civic organizations are invited to take advantage of this learning opportunity.
Most programs are delivered as PowerPoint presentations and typically last approximately 30 minutes. To request a speaker, please follow the procedures listed below.
Download the Speaker Request Form
How to submit your speaker request?
Open/download the selected Speaker Request Form (at right). You will need Adobe Acrobat Reader to do so. A link is provided at right to download it if needed.
Save to desktop: Click "Save a copy…" (top far left icon).
Change name of file: to MGGNO Speaker Request _ Your Garden Club Date of Meeting.pdf (Example: MGGNO Speaker Request _ NOLA Garden Club Oct 6 2021.pdf).
Fill in the required information.
Save file.
Attach your completed form to an email to the email address of the selected speaker (from Speakers: Bios and Topics) and include "Speaker Request" as your subject.
Have a question about our Speakers Bureau?  Please email speakers@mggno.com.
Click on a Topic or a Presenter below for more information
Topics

Presenters

Adding Spice to Your Louisiana landscape with Gingers
Glen LaBorde
The Art of Incredible Edible Flowers

NEW

Anandi Premiall
Basics on Raising Backyard Chickens
Linda Vinsanau
The Beauty of Southern Vines NEW
Glen LaBorde
Bringing Birds Into Your Backyard
Marieanne Arata
Butterfly Gardening *
Tammany Baumgarten
The Colombian Exchange – The Movement of Plants Around the Globe ZOOM
Anna Timmerman ZOOM
Container Gardening
Adele Mangipano
Environmentally Friendly Gardening ZOOM
Dov Block ZOOM
Farm to Table ZOOM
Anna Timmerman ZOOM
Gardening for Small Spaces ZOOM
Dov Block ZOOM
Growing Louisiana Irises 101
Linda Vinsanau
Herbs … Top 10 from Herb Society Survey
Anne Barnes
Historical Louisiana Landscapes. The "WHY" behind the Native Plant Movement* ZOOM 

NEW

Tammany Baumgarten
A History of Garden Design ZOOM
Anna Timmerman ZOOM
Home Citrus Tips ZOOM
Anna Timmerman ZOOM
Learning to Live With and Love Water ZOOM
Dov Block ZOOM
The Louisiana Certified Habitat Program * NEW
Tammany Baumgarten
My Weeds, My Bugs and How They Matter *
Tammany Baumgarten
Natives for the Shade ZOOM
Usha Ramadhyani
Online Resources for NOLA Gardeners

Linda Wegmann
Organic Gardening Basics ZOOM
Anna Timmerman ZOOM
Ornamentals – The Foliage Stars
Glen LaBorde
Parterre Gardens ZOOM
Anna Timmerman ZOOM
Plant Propagation
Sandy Pitre
Planting for Fall Interest*
Tammany Baumgarten
Pollinator Protection ZOOM
Usha Ramadhyani ZOOM
Salvia
Anne Barnes
The Scented Path:  Planting to Perfume Your Garden *
Tammany Baumgarten
Seasonal Vegetable and Herb Gardening
ZOOM
Dov Block ZOOM
Summer Gardening ZOOM
Usha Ramadhyani ZOOM
Super Plants for Your Louisiana Landscape –
Cool-Season Selections
Linda Wegmann
Super Plants for Your Louisiana Landscape –
Summer Selections
Linda Wegmann
Using Louisiana Native Plants in Your Garden NEW *
Tammany Baumgarten
Winter Herb Gardening ZOOM
Usha Ramadhyani ZOOM
* Available only to groups of 50 or more

PowerPoint presentation – requires HDMI-compatible TV or projector
Prerecorded Presentations by LSU AgCenter for On-Demand Viewing