Glen Laborde Garden Spotlight
Glen Laborde, LMG Class of 2014, shares his paradise and passion for gardening, mentoring and discovering new plants. Glen is pictured with his budding Hamelia patens; a native in southern Florida and the tropics. It is also known as firebush or hummingbird bush because its orangish-red tubular flowers attract hummingbirds and other pollinators.
GLEN LABORDE
Metairie Garden
Glen, please tell us a little about yourself.
I have a Master's in Science Education from UNO, taught science, then was a pharmacy rep for over 30 years. Now I'm enjoying retirement.
What inspired you to become a Master Gardener?
My father loved gardening. It comes naturally to me. My current home was a blank slate plant wise when I moved here. It's gradually evolved into my little paradise including ponds and paths. I'm always on the lookout for new and different plant varieties.
What do you love to learn about the most in gardening?
Camellias, gingers, roses (esp. Belinda's Dream), hibiscus, should I go on?
What MGGNO memories do you cherish the most?
I enjoy mentoring the new classes. Gardeners are nurturing, friendly, with a good spirit and childlike enthusiasm.
How do you earn your volunteer service hours?
In addition to volunteering at Pelican Greenhouse sales, I enjoy developing and delivering presentations for our Speakers Bureau. My topics include gingers, Cora bells, foliage stars and, most recently, southern vines.
What gives you the most satisfaction about gardening?
I treasure my early morning strolls in my garden. Two or three flowers greet and surprise me.
What is your favorite plant and why?
Butterfly Ginger—biggest payoff for least work.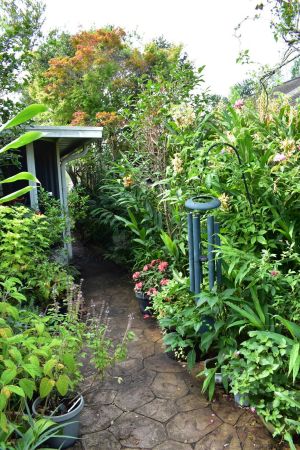 "I treasure early morning strolls in my garden where a path of fragrant butterfly gingers greet me."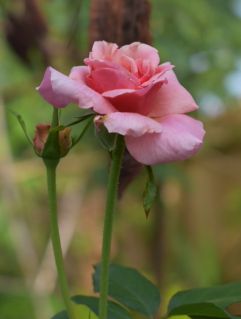 Glen also loves learning about roses — especially his prized Belinda's Dream, a Louisiana Super Plant.
What is your biggest gardening challenge?
Watering in October—the driest month of the year. I hire waterers.
What is on your MGGNO bucket list?
Finding new plants to enhance my garden.
What is your advice for new gardeners?
Indulge yourself, do what's fun for you. And never say "I wonder if I have a place for anything new."