Gardening Tips
Garden Solutions for Freeze Damaged Container Gardens
and Outdoor Arrangements
It can be difficult to keep our containers and plantings looking their best due to our extreme weather. I came across an idea from Creekside Gardens on YouTube. The gardener used readily available evergreen plant materials from her garden to supplement her container and garden areas damaged by freezing temperatures.
My list of suggestions for materials to use:
Branches from evergreens plants – use a variety of color variations
Plastic flowers or yard art
Twigs
Spray painted branches and twigs
Birch or Aspen logs
Magnolia leaves
Grass Plumes
Pine branches
Berries
Fresh, plastic or dried fruits
Dried seed pods
Pinecones (natural or painted)
Holly
Azaleas
Christmas ornaments
Candles
Garden art, figurines
Wine bottles
Mardi Gras beads
And so on…
Before you redo an arrangement, clean up the area or planter by throwing away any trash, loose, diseased or damaged material. Cut or trim off freeze damaged parts that are still hanging onto stalks or stems.
You may choose to use floral foam to support plant material. If you do, soak floral foam completely by laying it atop a sink, bathtub or bucket of water until it sinks naturally for about 1-2 minutes. I chose to collect evergreen stems and plant material from my yard such as Azaleas, Sasanqua Camellias, Pine tree, Magnolias, berries and stems from Ardisia Crenata. Cut (about 24 inches) evergreen and interesting branches and place them in a bucket of fresh water until ready to use. Recut into smaller stems and branches on an angle as you would any arrangement to make it easy to be inserted in moist soil or floral foam.
Make a plan and experiment with various living and artificial materials. Arrange stems around and on top of living and/or freeze damaged plantings to conceal damaged or bare areas. Arrange plant material symmetrically or asymmetrically. Fill in plant pieces and branches around the edges of container or area to give it form as you would with greenery or ferns in a typical arrangement. Add broader stems and leaves for interest to bring texture and color. Finally, fill in with finer textured, spikey, grassy material, berries, pinecones, fruit, ribbons, etc., to pull the arrangement together. Use a variety of textures and colors for interest and what ever is pleasing to your eye.
Water arrangement with sprayer or hose once finished for additional moisture. Arrangements will last about 3-4 weeks depending on temperatures and moisture. Water as needed and replace dried or dead pieces with fresh material to keep arrangements looking fresh. Check arrangements periodically for new shoots and plant growth from freeze damaged plants and remove supplemental stems replacing any soil lost to support recovering plants.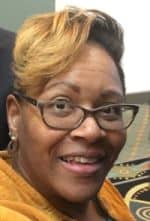 By Karen Blackburn