Gardening Tips
Gardening Tips – August 2021
A Brief History of Garden Design
Taken from presentation by Anna Timmerman Horticulture Agent, LSU AgCenter
Anna considers gardening as an artform much like a symphony that has been composed. Why does garden design matter, she asks? We like order, neatness, chaos and balance. What we do today is influenced by and connects us to history. History always repeats itself. Public and private landscapes are increasingly important. There is less greenspace and many of us have less access to greenspace. We want to protect and design for the future.
The Ideal landscape is the idea that way back before, in prehistoric times, we preferred open savannah type landscapes which were diverse. We probably evolved in this type of landscape. Our presents lawns relate back to the open savannah landscape. Garden pre-history is documented by cave paintings, prehistorical artifacts show hunter gathers did rely on landscapes. Date palms were found in Libya. Prehistoric communities practiced horticulture, composting, they did controlled burnings, plants were scattered and transplanted to encourage the food source in the region.
Mesopotamians (3,000 BC-539 BC) were the first ones to create landscapes for pleasure, worshipped trees. "Tree of Truth", "Tree of Life". It was common to have 2 trees to frame doorways or an entry. They guarded the gates to heaven providing a religion strong tie to nature. The ruling class had hunting parks and city parks. Exotic and natives were used as these areas were connected to a trading route. They had Date palms, figs, Pomegrantes and other fruit trees like pears. Cedars were used for shade, lumber perfume etc. They had courtyard gardens, walled private gardens for dinning/entertaining, a central feature usually a tree and a water source was an important feature.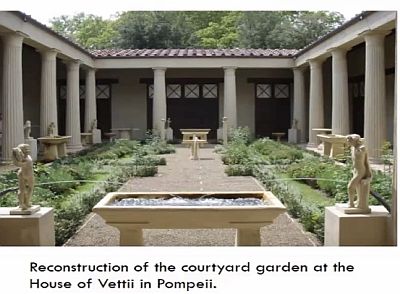 Persian Gardens (4000 BC-18th Century AD) were important. Considered Paradise on earth and an impossibility in the desert. Gardens were dependent on water for the garden and the household. Aspect of the formal 4 quadrants of Eden were important, water was always incorporated as in canals. Shade was attained by use of pergolas with vines, trees for shade over a gathering space. All things pointed to the palace. Gardens were depicted on miniature paintings. Trees were planted in ditches to conserve water. Irrigation tunnels were used to move water from place to place and to prevent evaporation of water. Persians were also passionate about flowers.
Ancient Egypt (3150 BC-525 BC). The old kingdom becomes a dominate world power. Agriculture was located along the Nile river, raising vegetables, orchards, figs, pomegranates and Lotus. New Kingdom gardens were built for private use and pleasure. Movement towards sacred groves were planted near temples and tombs to represent heaven. Certain plants were significant to specific deities. Gardens were heavily influenced by Persian and Mesopotamian design/mythology. Walls and levees were used, ditches used at least 2000 years ago. Geometric, symmetrical, adept traders and battles were going on. Bringing the spoils of war home and trade, they had diverse plants from conquered lands. 1st to have a highly skilled gardener class shows they these were developed people. Gardeners were buried with the landowners. Many members of the upper & Royal class were plant collectors. They painted pictures of these events in their tombs.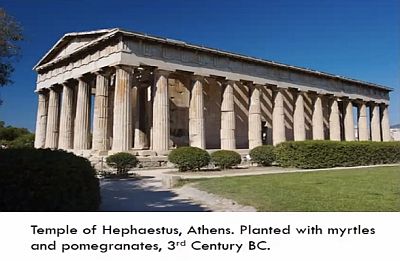 Classical Greece (8th century BC-386 BC). Greeks did not own private gardens. Temples and public places were loose landscapes. They were functional directed naturalistic look philosopher gardens, they were walled with paved inner courtyards planted with many palms, pomegranets and olives. The gardens were not very decorative.
Roman Gardens (753 BC-1453 AD). Romans were avid gardeners. Gardening was considered a noble significant hobby. They incorporated some aspects from the Greeks. Walled gardens provided inner refuge. Many Romans were living in cities. They valued ornamental horticulture New plants were sold, they valued seeds, planted and shared them. Romans used Persian influences in their design with symmetrical rooms open to courtyards, ornamentals and utilitarian plants growing side by side. Low railings sometimes used to keep kids and dogs out. Covered walkways encircled the gardens to be used and enjoyed. Water was the focal point.
Medieval Gardens (5th-15th Century AD) or the Dark Ages. Monasteries had medicinal and utilitarian gardens that were laid out neatly. Garden of Eden philosophy, order out of chaos, kitchen gardens, infirmary gardens, medicinal gardens were positioned close to the sick. There were cemetery orchards, cloistered gardens "path of life" from the Romans examples were found in herbal texts. Not so much ornamental.
Eastern Garden traditions. South east Asia was connected by trade on the "Silk Road" (220 BC-1453 AD) from east to west. They were figuring out plant breeding and design. Focusing on designing ideal miniaturized landscapes expressing harmony between man and nature.
Chinese Garden (200 BC-1912 AD), evoked natural landscapes in miniature as a backdrop for everyday life, using a streams, canals or ponds. Temples, pavilions or shrines were focal points. Chinese gardens avoided straight lines using meandering pathways for walking and representing life. Plants were used in natural forms "right plant, right place". They avoided straight lines. Scholar Gardens were for contemplation of natural forms. Rocks and water were used to balance one another. Moon gates and circles signify continuity of time, togetherness, family.
Japanese gardens (710 AD-1912AD), similar to Chinese gardens Daoism and Buddhism (552 AD) harmony with nature, age and patina were highly valued. Gardens connected to Shinto creation stories, eight perfect islands. Diverse plant material brought from China Korea and abroad, moss gardens, water represented but not always included, pebble gardens used to represent water. Wrapped/framed views hide and reveal techniques where one has to move throughout the space to see other spaces, Japanese liked pruning and shaping plants to represent clouds, rocks to evoke mountains, places to meditate, asymmetry and not trying to dominate nature.
Back to west, French baroque parterre gardening was used to dominate nature and display wealth. They needed gardeners. These same techniques are used today.
Italian Renaissance (15th Century AD), Merchant class families used classical garden culture. Villas for pleasure, enhanced views, political symbolism, symmetrical
French Formalism (17-18th century) French classical, Louis XIV, design built on other cultures. Andre Le Notre, Gardens designed to be viewed as a setting for the house. Designs came from artwork, furniture and clothing designs for opulence.
French gardens show of wealth of power and control of nature. Elements of designs, included, Allees, Parterres (compartments), central Axis, Topiary, Fountains and Canals, Orangeries (citrus in pots on wheeled) and exotic fruits.
English Landscape (18th-19th Century) used natural plantings (messy landscape), oaks, lakes, harmony with surrounding landforms, Free forms, little pruning, selective sculpting and topiary. Color, "Romantic" design, paths, different viewpoints of the house and grounds were incorporated. Trees and lawns come into design during this period. Manor gardens become landscape parks, villages hidden from view, tree species from America, nursery trade thrives. Looser designs with some ridged or classical elements "wilderness" and much of nature was being tamed at this point. Herbaceous Borders (19th-20th Century). Blend of manor and cottage gardening, scaled for middle class sized homes. Mixed shrubs, flower materials, perennials, bulbs, natives, exotics, became important. Gertrude Jekyll popularized the style-messy profusion of blooms and borders.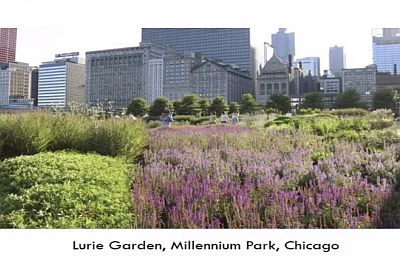 Contemporary Gardening drawn from traditional styles, often secondary to architecture, can be highly stylized, focused on ease of maintenance, plant material readily available, functional design spaces, entertaining spaces, small spaces, balcony gardening starting to add natives, looseness and formal, storm water conservation, rise in vegetable gardening. Raised beds can look formal and more architectural.
A resurgence of gardening happening now. Since the Covid-19 epidemic. Gardening has increased among 20-40 year olds, sales have increased, and more women are gardening. Organics and native plants such as Cacti and succulents, edible landscaping and "Ecological Service" gardening habitats for birds and bees are increasing.
Future Design Considerations include climate changes, our plants need to be adapted to these changes. Storm water management is important. "Global" gardening, seeking out rare plants should be considered. Small spaces, using sustainable materials and Ecological services to conserve should be used as much as possible thus providing us with enjoyable spaces to connect to nature and our gardens.
(Photos used with permission from Anna Timmerman, Horticulture agent LSU AgCenter)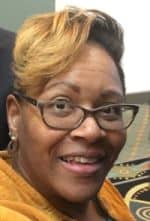 By Karen Blackburn