Gardening Tips
Gardening Tips – November 2020
Small Space Gardening
New Orleans is renowned for its courtyard gardens. Nowadays many City Dwellers have limited space & may not have a courtyard but they want a small garden space. You don't have to have a big house or acres of land to have a beautiful garden. A small space garden can be a single planter or grouping of plants. You can make a garden in a garage, around your mailbox, in an alley, tabletop or in a wood pallet. There are limitless options.
How do you create a small space garden? Think outside of the box. Treat your small garden area like a big garden or courtyard but pay attention to scale. Furnishings and plants may have to be smaller/narrower or you can make a statement with large scale items that make a stunning statement. Think up and incorporate vertical features, think multi-function. Think in layers as you go up. You can buy or make your own hanging plant display using plant pockets. There are many options using porous plastic or fabric but make sure plant pockets are big enough. Use your fence as a wall to be adorned. Of course use edibles as well as ornamental plants. Consider art and sculptures. Mirrors make an area seem larger and you can reflect an interesting part of your garden area.
What do you want your garden space to be, a space for entertaining, for a garden or just quiet space for reading or meditation? Use every inch of space to your benefit. Think of your small space garden as if you are decorating a room in your house.
Rose Falvey and Sarah Bechdel created a small and wonderfully cute garden using edible plants and DIY structures they created themselves. They thought vertically and created a seating area for entertaining, relaxing and gardening. They made a table using a cable roll. The tub is a 100 gallon stock tank from a local Tractor Supply Company. Rose said she sprayed the outside of the tub with Leak Seal, she then painted the tub white. She added a 100 gallon tank canister filter that has a charcoal filter. They used a lattice to extend their fence and use it as a trellis for vining vegetable plants. Check out the pictures of Rose and Sarah's small space garden.
Consider colorful herbs and vegetables. Some suggestions: red and purple lettuces, Swiss chard, mustards, ornamental peppers, purple and green cabbages and kale to name a few. Mix these in the landscape or in containers for interesting colors and fun combinations.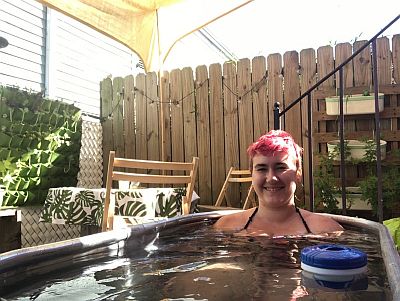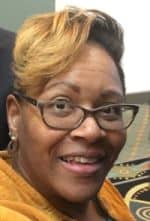 By Karen Blackburn